Discover more from Polymath Letters
Weekly email for curious people.
Over 3,000 subscribers
Kobe's Biggest Lesson to the World
Find your Craft and Love it with all you've got.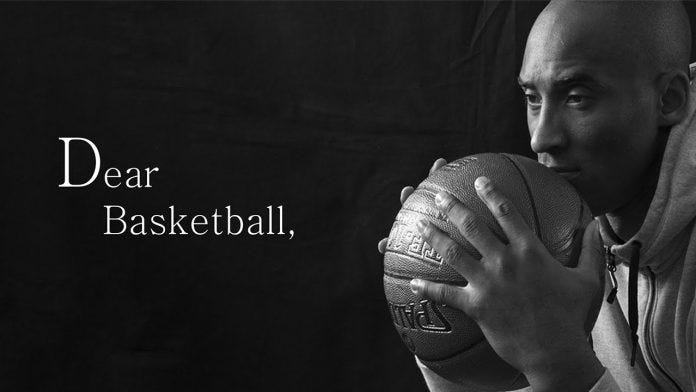 I am not big on Basketball. I came to know about Kobe from the book Relentless, by Tim Grover. Tim mentions in the book how dedicated Kobe was to his game. I was in the middle of the book when the news about Kobe's unfortunate death came in.
After Kobe's death, people started posting stories about how hard Kobe used to work. From the book Relentless, and these stories, it seems he worked harder than most other players in the game.
In one of the interviews, Kobe explains: If I practice four sessions per day, and other competitors practice two sessions per day, after four years there's no way the competitors will get a chance to cover that up, they will always stay behind.
But behind the glamours of his insane work ethic, something is getting buried beneath the surface. That thing is his LOVE for the game. Kobe loved Basketball with all his heart. His love shows up in his poem Dear Basketball. Here are the lines that struck me the most:
"I played through the sweat and hurt
Not because challenge called me
But because YOU called me.
I did everything for YOU
Because that's what you do
When someone makes you feel as
Alive as you've made me feel."
The YOU in the poem is Basketball. You can feel his deep love for the game. He mentions in several interviews that he was lucky to find this love at an early age. Kobe also shared how he exposes his children to different activities so that they can find their love too. I think this is the most important message we should take from Kobe.
Find your Craft

Love it with ALL you've got
Kobe didn't show us how to work the hardest; he showed us how to love the most. He showed us what true love for your craft looks like. Unfortunately, most people coming across the hustle-stories of Kobe will try to emulate that attitude (the Mamba Mentality, in Kobe's words) to whatever they are working on. Most of them will fail for obvious reasons and end up adding unnecessary anxiety to their lives.
Don't forget what Kobe said:
"Because that's what you do
When someone makes you feel as
Alive as you've made me feel."
Basketball made Kobe feel alive; what makes you feel alive?
Namaste 🙏
---
PS. Subscribe to the Polymath Letters to get these posts in your inbox every week.
PPS. Connect with me on Twitter at @CrazyPolymath.